Cyberhawk CEO, Chris Fleming, talks to Oilman Magazine about the advantages of drone-based visual inspections of offshore assets, the critical value of world-class pilot training, and a digital pivot in visual asset management.
The use of drone technology for inspecting offshore oil and gas assets has grown massively over the last decade and is predicted by Research and Markets to grow by a further 60 percent over the next five years.
Quicker, more cost-effective, and with a reduction in safety risks, companies are embracing the benefits of drone inspection compared with traditional methods, such as using rope access or scaffolding. With the coronavirus pandemic placing increasing pressure on businesses to limit the manpower involved in operations, and regulators becoming more flexible around the need for an on-site presence during inspections, we are seeing a further rise in inspection services being delivered remotely.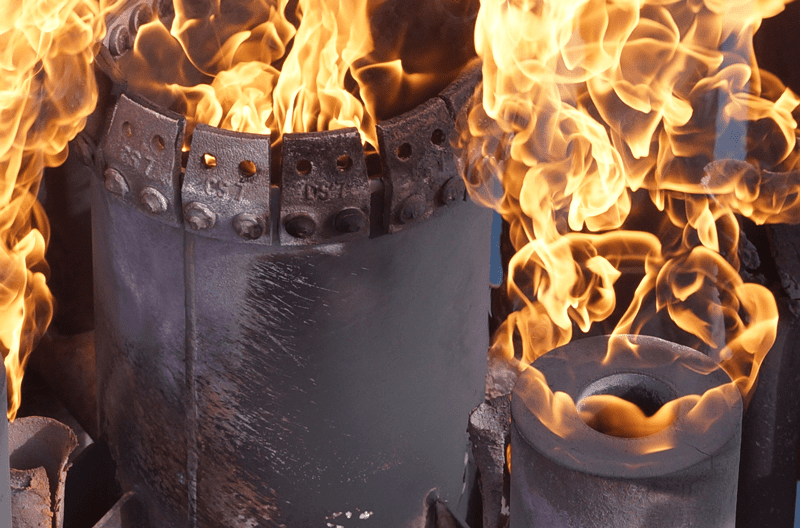 The ability to digitize offshore assets is one of the main advantages of using drones to capture visual data. By using images of the assets captured during routine inspection campaigns, we can start to build highly detailed 3D digital twins. This was already beneficial to oil and gas asset owners before the pandemic, and demand has grown even higher this year as operators look at ways to avoid sending workers on-site.
Even before COVID-19, oil and gas assets presented an inherently hazardous workplace and it remains important to limit the exposure that people have to these environments. By creating a 3D model, engineers have the ability to inspect the facility and plan maintenance virtually, meaning repairs are focused and minimal time is spent on-site. The ability to inspect, analyze and plan repairs remotely is even more beneficial in current times, as this allows companies to maintain social distancing and keep their workforce safe, while maintaining the safety and integrity of the assets and driving productivity.
---
Want to learn how Cyberhawk and iHawk can seamlessly integrate with your business?
Download your free oil and gas capabilities overview pack now!
---
The Benefits of Drone Inspections
There are many reasons why drones have become beneficial to oil and gas companies in recent years. Using this revolutionary airborne technology to inspect assets reduces the need to send personnel into dangerous areas, or have people working at height for extended periods of time. They enable us to fly into hard-to-reach confined spaces, often without need for human entry. This means equipment such as pipe ranks, vessels and storage tanks can be easily and safely inspected both visually and thermally.
These safety benefits don't come with a high price tag; in fact, it's the opposite. By conducting inspections in a fraction of the typical time required, there are huge cost savings on offer – often millions of dollars for large inspection campaigns.
This doesn't come at the sacrifice of data quality either. Drones allow for detailed imagery of even the smallest defects with less potential for human error. A drone can capture overview and standoff shots, as well as close visual inspection imagery, allowing asset managers to effectively gauge the context and extent of any areas of damage.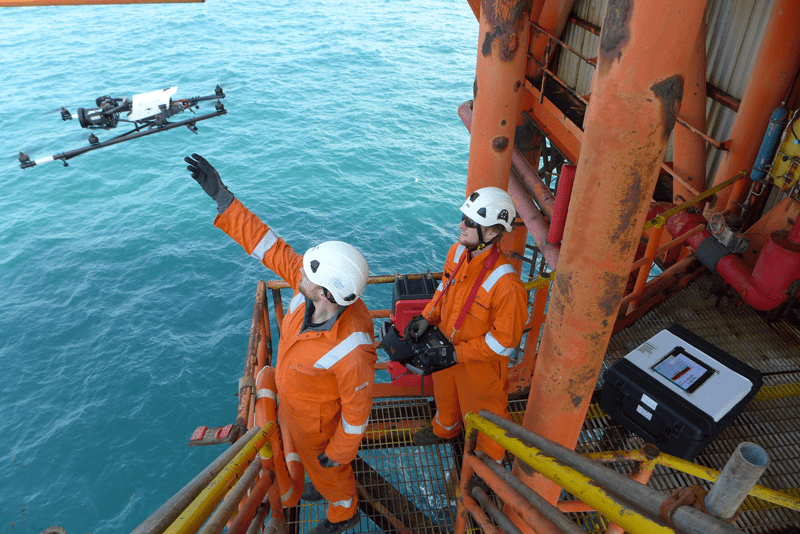 Suitable for Even the Most Complex Inspection Campaigns
The benefits of drone inspection are becoming more widely understood and embraced; however, we still surprise people with how efficiently we can inspect highly challenging areas.
For instance, many believe that a platform underdeck is one area that is inaccessible by a drone. This is undoubtedly a complex area to inspect, where pilots are met with no GPS, and there are potential magnetic interference and complex structures to navigate around. A full underdeck inspection can, however, be undertaken by an experienced pilot who has the ability to fly completely manually.
The traditional methods of access would be to use scaffolding or rope access technicians. Erecting and dismantling scaffolding is often extremely costly – potentially hundreds of thousands of dollars for large areas – and makes this technique unjustifiably expensive when other solutions exist. Both scaffolding and rope access can take weeks, if not months, to complete full inspection scopes.
Using a drone brings more efficiency to the inspection process. One underdeck inspection Cyberhawk conducted for a client in the Norwegian North Sea was completed within just one day, resulting in substantial time and cost-savings. Our team was also able to obtain standoff shots of the underdeck, an angle that would not be obtainable from alternative inspection techniques.
---
Want to learn how Cyberhawk and iHawk can seamlessly integrate with your business?
Download your free oil and gas capabilities overview pack now!
---
Training is Key
Our ability to carry out such complex and intricate inspections comes as a result of our internal pilot training scheme; at Cyberhawk, this is four levels of intense training and practice, with pilots completing increasingly complex work scopes as they progress.
The training starts with pilots learning manual flying skills. It is essential that our drone operators are able to take control if difficulties occur, particularly when flying in hazardous environments such as oil and gas plants and offshore platforms.
Our pilots must be Level 3 qualified before they can work on these types of complex onshore plants, and Level 4 for offshore. That means a minimum of 18 months or 500 hours of flying experience on actual jobs before they can mobilize to these sites.
This training program is deemed the gold standard in the drone community, proven by many successful aviation audits conducted on our business by global oil and gas operators.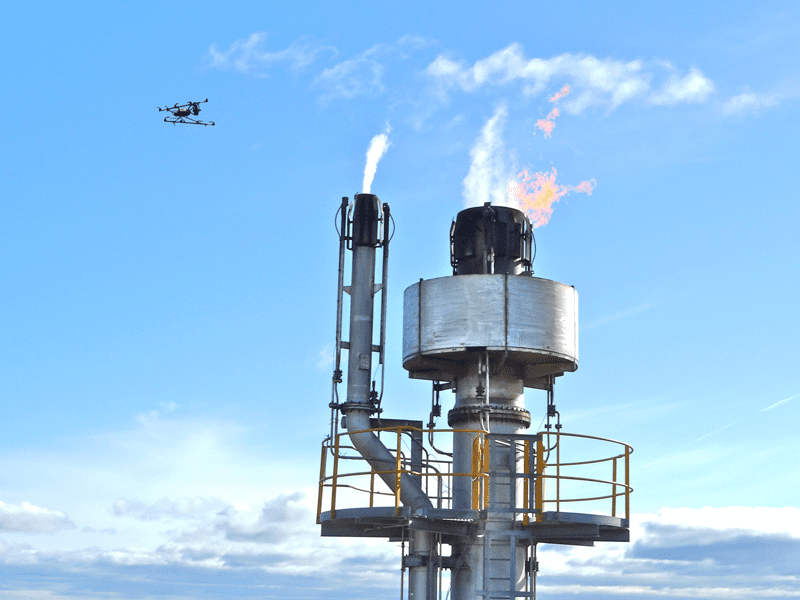 A New World of Digital Data
We've highlighted that the use of drones is safer, quicker and more cost-effective than traditional inspection methods, but it's the digitalization of the data captured that allows us to unlock a new world of information and begin to properly monitor, track, analyze and predict at scale.
Advancements in data management have enabled us to generate further efficiencies and gain more value from data. Key to that has been understanding how data should be stored and managed. Until recently, this was the biggest barrier to really embracing the power of drone technology.
Previously, the challenges included a lack of software with the ability to process, store, assemble and search through large amounts of data. With the improvement of computing software, expanded cloud capability, and software algorithms becoming more sophisticated, we are beginning to overcome these challenges and are starting to reap the benefits of effective data management.
Cyberhawk has developed its own cloud-based software, iHawk, which improves asset management and offers increased insight using visual data. It has the ability to enhance the industry's asset management capabilities by allowing operators to completely digitalize their inspection reports in the context of the asset.
Understanding how teams will use this data to become more efficient is essential. Most people process data more quickly and efficiently when it is presented in a visual format, which, thanks to drone and software technology, is becoming a reality. Using cloud-based software, operators can now access an up-to-date, full visual record of their assets. This allows for detailed information to be shared between asset management and operations teams, senior managers and contractors.
---
Want to learn how Cyberhawk and iHawk can seamlessly integrate with your business?
Download your free oil and gas capabilities overview pack now!
---
This digitalization is being further bolstered through the introduction of asset familiarization. This is where a complete visual record of the asset can be used to monitor the ongoing condition of the asset to prioritize future inspection and maintenance campaigns. These 3D digital twins mean companies are less reliant on human efforts to carry out inspections, which greatly reduces the risk to safety, as well as minimizing the potential for human error during inspection processes. In addition, iHawk allows for enhanced productivity through reduction in physical site visits, efficient document management, and more time on tools due to reduced asset downtime, leading to lower costs.
Shell is one company which is embracing drones and digitalization globally. Earlier this year, the supermajor awarded Cyberhawk a five-year, multi-million-dollar contract to use iHawk as its next generation visualization software platform for all onshore, offshore and subsea assets, as well as all global construction projects.
We've been a key supporter of Shell's digital transformation strategy since 2012 and our collaborative, progressive relationship has been a prime enabler in the evolution of iHawk. Managing complex infrastructure, particularly in the energy industry, cannot be based on a one size fits all approach, so we work closely with iHawk clients in this sector to ensure our software is fit-for-purpose, and doesn't stand still.
The Future Holds Exciting Potential
It is certain that drone demand will continue to increase in the oil and gas industry in the coming years, as the complexity and volume of visual asset management requirements grow by the day. As technology improves, we can expect to see more digitalization and automation being incorporated into the oil and gas industry inspection of its assets – from creating 3D twins, to detecting methane, and supporting the sector's desire to reduce emissions.
We've been working in this world for more than 10 years and the industry is now long past the proof of concept stage for drone inspections. Today, it's all about creating as much value from the data as possible. Working with our clients, we continue to push the boundaries every day and are extremely excited about what the future holds.
Life as a pilot at Cyberhawk: https://insights.thecyberhawk.com/news_and_blog/scotts-story-made-in-the-royal-navy-now-flying-high-at-cyberhawk
Drone inspections in oil and gas: https://pages.thecyberhawk.com/en/oil-gas-capability-overview