Adventure is in our blood at Cyberhawk. You don't get air-lifted to offshore platforms or climb inside oil tankers as part of your day-to-day without liking a little extra hot sauce on your burger.

That's why we recently introduced The Cyberhawk Adventure Draw.

Once a month we pull a Cyberhawker's name out of our trusty yellow tombola and whoever gets drawn receives a cool £1,000 – but there's only one stipulation..

You have to spend it on an adventure!

SEPTEMBER'S WINNER: ERIK DECHERD
Erik's based in Denver and is our Business Administration Manager in the US. Not confined to one role though, he is a bit of an everyman; dipping his toe in everything from commercial operations, to logistics coordination, to asset management. Erik's plate is often full, helping in any way he can to structure the US business.


Since he joined Cyberhawk 18 months ago, the company has doubled in revenue (it's not a coincidence, he swears!) and one of the things he loves most about Cyberhawk is being out in the field with our pilots and engineers.

"I love the camaraderie of being out in the field with them. When you spend time understanding the roots of the business, you see what makes Cyberhawk so great. You get to see the strengths that allow us to deliver gold standard service, as well as the quirks that make us the fun, adventurous group we are."


Erik's Choice: A Trip to Croatia
Erik had dreamed of going to Croatia for as long as he could remember. He explains; "My father is a sailor and once went on a sailing trip across The Adriatic, which he still claims as one of the most fun sailing adventures he 's been on; visiting all the inner islands like Hvar, the gathering point for The Yacht Week festival when it's hosted in Croatia."
First Stop: Oyster Farming OFF THE SHORE OF STON
You don't get fresher oysters than ones lifted right out the water! Erik and his partner hopped aboard a small boat with the owner of a family-owned oyster farm (that goes back five generations!) and sailed out upon the blue water that mirrors the town of Ston. Once there, the owner hoicked a rope out from underneath the water and revealed a veritable coating of oysters decorating the rope's surface. They were then plucked from the rope and given a quick bath in lemon juice before being devoured whole. By Erik's own account, he says it was the most delicious oyster he's ever had.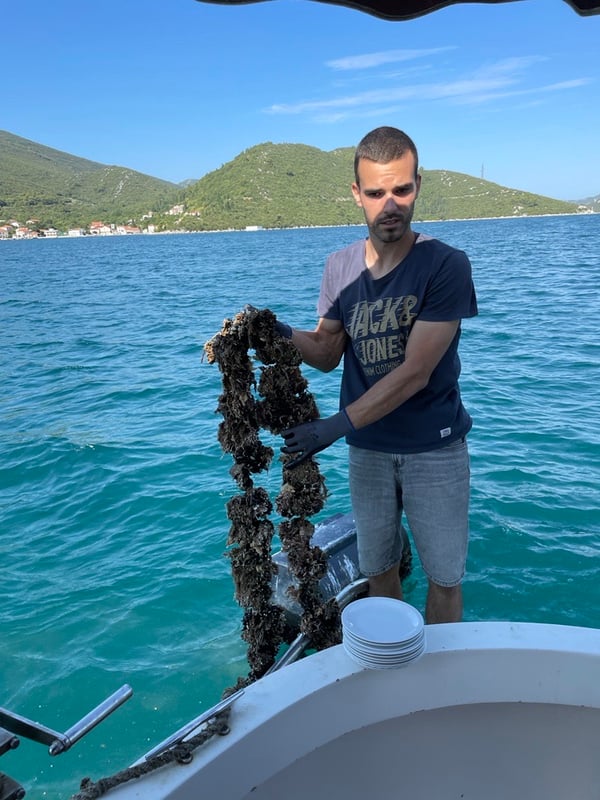 Rope fresh from the water laden with oysters - accompanying serving plate waiting below.

KING'S LANDING AKA DUBROVNIK
We can't talk adventure without bringing up the greatest adventure series of all time: Game of Thrones!

You may or may not know but King's Landing was filmed in the idyllic coastal city of Dubrovnik. A quick flick through Erik's holiday snaps and you can see why the directors chose it for their beatific portrayal of King's Landing: clear blue water, creamy-bricked buildings – oh yeah, and the huge castle on the coast!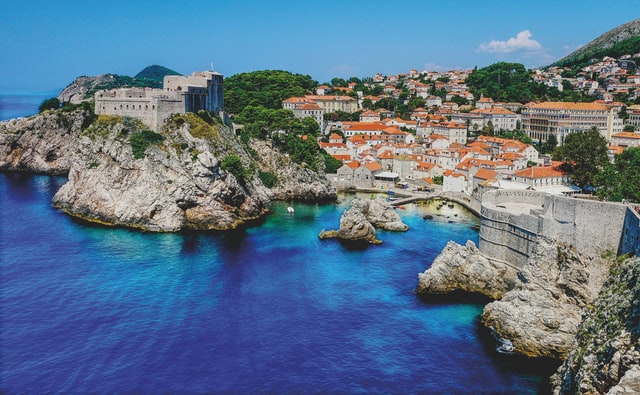 Sadly, Erik didn't get to meet his favorite character, Tyrion Lannister, while he was there – but he did see the stairway where his brother Jamie helped him escape the black cells beneath The Red Keep.
CROATIAN CUISINE IN SIBENIK
As part of Erik's birthday, he was treated to Michelin-star Croatian food.

He tried a nine-course tasting menu that included cuttlefish ravioli, anchovy terrine and.. the smallest hamburger of all time.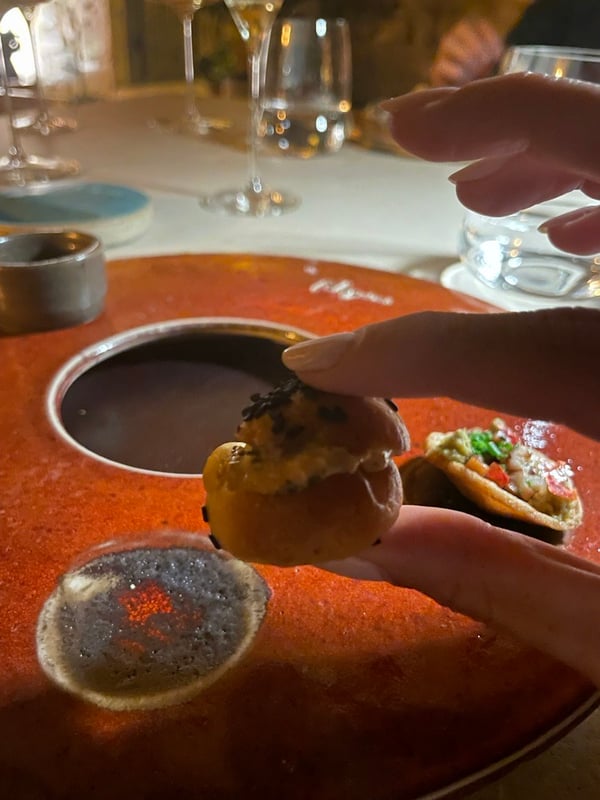 The meal included a Croatian wine pairing for each of the dishes – this was particularly special as Croatian wine is almost impossible to get in The US as there are only select brokers that can import very small quantities. A fine birthday treat.
Do you have an Adventurous Side?
If you think you have what it takes to join the Cyberhawk team you can apply here.