Several industries are using drones to improve their operations, with oil and gas one of the sectors testing the technology.
As seen in Oil and Gas Technology Winter 2020 Magazine.
Unmanned aerial vehicles - UAVs or, more commonly, drones - have become integral to the oil and gas industry over the last few years owing to their increasing usability as technology has advanced. This is bolstered further by falling hardware costs and easing government regulations. The industry's steady transition towards digital transformation using sensors, cloud computing and the Internet of Things (IoT) is providing an added impetus to drone usage.

Drone adoption in the oil and gas industry initially revolved around strategic deployments for remote monitoring and surveillance of assets during regular operations and in emergency situations. Recent advancements in sensing and imaging technologies are enabling drones to be deployed in a wide range of settings for performing inspection and predictive maintenance of critical infrastructure. Drone makers are also collaborating with oil and gas companies to develop custom drone platforms that can be equipped with different types of data collection technologies for obtaining realtime insights.
The future for inspections
Drone-based inspections tend to be quicker and more cost-effective, which is a key driver for oil and gas customers. "The traditional methods of access would be to use scaffolding or rope access technicians," Xiang Wong, Inspection Manager at Cyberhawk, explains. "Erecting and dismantling scaffolding is often extremely costly, potentially hundreds of thousands of pounds for large areas, and makes this technique unjustifiably expensive when other solutions exist. For both scaffolding and rope access it can take weeks, if not months, to complete full inspection scopes. "These safety benefits do not come with a high price tag – in fact, it is the opposite. By conducting inspections in a fraction of the typical time required, there are huge cost savings on offer, often into millions of dollars for large inspection campaigns.
Also, the oil and gas industry by its nature is risk adverse and safety is paramount, drone inspections reduce safety risks, so it is an attractive option compared with traditional methods, such as using rope access or scaffolding.
---
Want to learn how Cyberhawk and iHawk can seamlessly integrate with your business?
Download your free oil and gas capabilities overview pack now!
---
Using this airborne technology to inspect assets reduces the need to send personnel into dangerous areas, or have people working at height for extended periods of time. Drones can fly in hard-to-reach confined spaces, often without need for human entry. This means equipment such as pipe racks, vessels and storage tanks can be easily and safely
inspected both visually and thermally.

Overcoming scepticism

Looking back over the past five years, many oil and gas businesses were sceptical about the quality of the data they may receive after a drone inspection, or even if it was a safe option. In addition, in such a conservative sector many operators are not comfortable being the first to adopt a new technology or approach, but they are happy to be the second once it has been proven. "As the technology advances, we can capture more accurate data safely and this has resulted in an acknowledgement across the industry that it is reliable and robust," Wong adds. "Over the years the quality of data we can gather has drastically improved. As a result, we have seen oil and gas companies embrace the benefits of drone
inspection.
"Today, businesses are under a huge amount of pressure due to COVID-19 restrictions. They are having to maintain critical inspection work with limited manpower, and with the health and safety regulators becoming more flexible around the need for an on-site presence during inspections, we are seeing a further rise in inspection services being delivered remotely. In fact, the use of drone technology for inspecting offshore oil and gas assets has grown massively over the last decade and is predicted by ResearchandMarkets.com to grow by a further 60% over the next five years.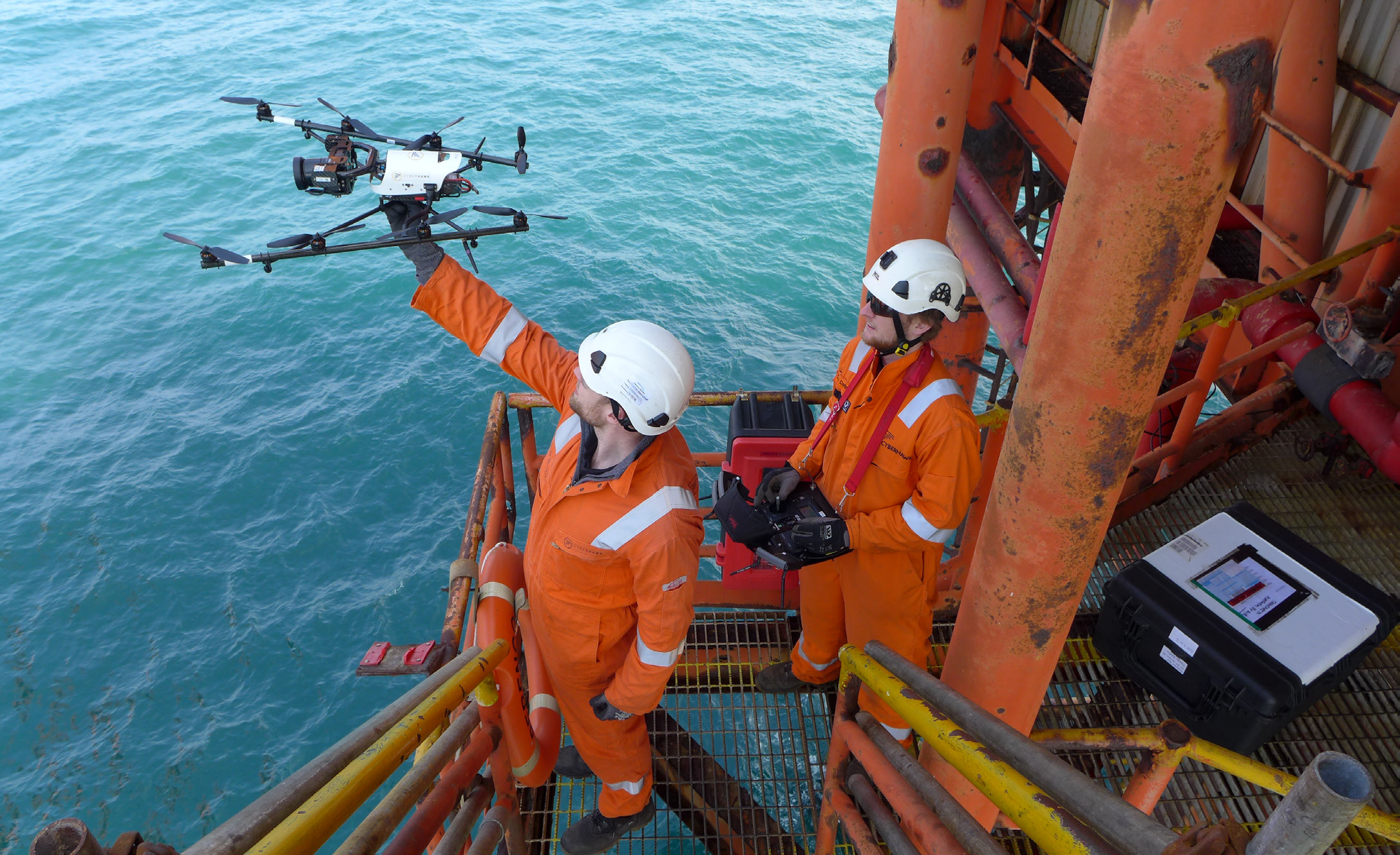 Collecting complex data

Using drones for surveying allows for complex and intricate inspections of assets, resulting in detailed imagery of even the smallest defects, with less potential for human error. A drone can capture overview and standoff shots, as well as close visual inspection imagery, allowing asset managers to effectively gauge the context and extent of any areas of damage.

For the oil and gas industry, drones are commonly used to capture visual data used to digitise offshore assets. The
images of the assets are captured during routine inspection campaigns and can be used to build a highly detailed 3D
digital twin of the asset. "We have seen demand for this increase this year as asset operators look for ways to
reduce the manpower needed offshore to limit potential exposure to the coronavirus pandemic," Wong says. "3D
models allow engineers to inspect the facility and plan maintenance virtually, meaning repairs are focused and
minimal time is spent on-site. "The ability to inspect, analyse and plan repairs remotely is even more beneficial in current times, as this allows companies to maintain social distancing and keep their workforce safe, whilst maintaining the safety and integrity of the assets and driving productivity.
---
Want to learn how Cyberhawk and iHawk can seamlessly integrate with your business?
Download your free oil and gas capabilities overview pack now!
---
Over recent years there has been significant advancements in data management that which has led to increased
efficiencies and allowed operators to gain more value from data. "At the same time, we have seen a rapid increase in
the volume of data customers have access to. For many oil and gas operators it is a challenge to process, store,
assemble and search through large amounts of data. Gaining industry confidence When drones were first introduced to the sector over a decade ago there was a need to instil confidence in asset operators in terms of drone safety, as well as demonstrate the quality of data that could be captured. Operators wanted assurance that they would get the same level of detail from a rope-based inspection.

"As the offshore oil and gas industry is an extremely hazardous environment, it was important to demonstrate that we understood healthy and safety considerations, and our field teams would comply with operator procedures and regulations," Wing continues. "We were able to overcome these initial reservations. Firstly, many of our team members have come from an oil and gas background, and are highly knowledgeable about the HSE considerations offshore, and are by nature very risk aware. We were able to demonstrate that we understood the market and planning considerations in early discussions with prospective customers. "Secondly, we believe it is important to ensure our pilots are trained to the highest standards. Our pilots are trained to understand why they need to get the right data in the right way – every time."
Adding intelligence to data

There have been significant advancements when it comes to the way that data is captured and processed. An important trend is automation. "At Cyberhawk we are now creating our own AI models based on our in-depth engineering expertise," Wong says. "We believe it is important to provide insights that can inform decisions with the data we capture, so we use an engineering perspective to ensure we provide our customers with the insights they need most to add real value to their operations. Deploying sensors in the oil and gas sector is not new, but there's now an interest in network-attached systems that are very quickly and easily deployed.

"With greater volumes of higher quality data being captured, we are also seeing opportunities for improved 3D visualisation. The key to an effective 3D presentation of an asset is to not only contextualise the asset condition in real time, but to also provide a tool that can accurately plan remedial work required and maintain the asset. In other words, 3D visualisation gives the operator a better idea of how good is good, how bad is bad in the grand scheme of things and
allows them to use that quantifiable information to plan a more cost-effective maintenance campaign."

In terms of innovations in drone technologies, we recently saw the Schiebel Camcopter S-100, a mini-helicopter UAV
developed by Nordic Unmanned, carry out a long-range unmanned flight to supply a 3D printed component to a rig
off the west coast of Norway for Equinor. At a flight range of 100km each way, this was a world-first in terms of scale
of an unmanned aviation delivery.
---
Want to learn how Cyberhawk and iHawk can seamlessly integrate with your business?
Download your free oil and gas capabilities overview pack now!
---
Although this is positive for the environment as drone operations have a 55 times lower carbon footprint than traditional manned delivery methods, which can include the use of cargo vessels, there is still work to do to make the technology more cost competitive and accessible to the wider energy industry. It also has a payload capacity of 50kg which limits the cargo that can be transported. If the technology can accommodate heavier cargos one day this could be a game changer for supplying offshore rigs.

Finally, methane detection has proven remarkably successful. Shell for example is using satellites to locate methane leaks and then deploying drones with gas sensors to pinpoint exactly where the methane is coming from.

Drones in action

Shell is one company which is embracing drones and digitalisation globally. Earlier this year, the supermajor awarded Cyberhawk a five-year, multi-million-dollar contract to use iHawk as its next generation visualisation software platform for all onshore, offshore and subsea assets, as well as all global construction projects.

"We have been a key supporter of Shell's digital transformation strategy since 2012 and our collaborative, progressive relationship has been a key enabler in the evolution of iHawk," Wong adds. "Managing complex infrastructure, particularly in the energy industry, cannot be based on a one size fits all approach, so we work closely with iHawk clients in this sector to ensure our software is fit-for-purpose, and doesn't stand still."

Unfortunately, a lot of drone technology available today is limited by the battery technology. If there was a breakthrough in battery technology and had access to more powerful energy sources, it would transform the way drones are used. This would allow drones to stay connected 24/7 via IoT technology and allow for around the clock asset surveillance, meaning remote inspections would identify defects early on.

"Unmanned drone operations will become the norm," Wong says. "We can expect more R&D to make it possible to transfer heavier goods using unmanned drones and perform complex tasks such as advanced NDT inspection
and fabric maintenance. "We have already seen Amazon pushing for an airspace corridor which would allow the e-commerce giant to use high-speed aerial drones to deliver goods from their warehouses straight to the consumer's doorstep. These would fly robotically with virtually no human interference. This would support social distancing so it may be an innovation that we see accelerated in the coming months as non-essential shops remain shut and online orders
increase. It will be interesting to see how this application could be transferred to the offshore oil and gas sector in years to come."
---
Want to learn how Cyberhawk and iHawk can seamlessly integrate with your business?
Download your free oil and gas capabilities overview pack now!
---
If you enjoyed this blog, please support our friends at Oil and Gas Technology and subscribe to their eMagazine for free.