Product owner Alina Ilie is the golden thread running between our customers, developers and leadership team, playing a critical role in ensuring our products meet customer expectations while delivering on Cyberhawk's strategic vision. Here, she shares her thoughts on our commitment to delivering best in class solutions – and how our work is about something much bigger than solving customer challenges.

Tell us a little bit more about your career journey and your route to Cyberhawk. Was this a career you always wanted to pursue?
I started as a software developer but I always had an interest in the business side of things, and made the progression from developer to business analyst. I did that for around 10 years, mostly in banking and as a team leader, and then moved into a product owner role. It has a lot of similarities to a business analyst, but there are many more responsibilities. You must also own the vision and the strategy for the product.
About 18 months ago I felt like I needed a change – the banking world started to feel like it wasn't challenging enough. The role with Cyberhawk sounded interesting, particularly because of the industries the company is working with. Some of them are not particularly advanced in terms of digital transformation, so I was excited by the opportunity to help them on that journey.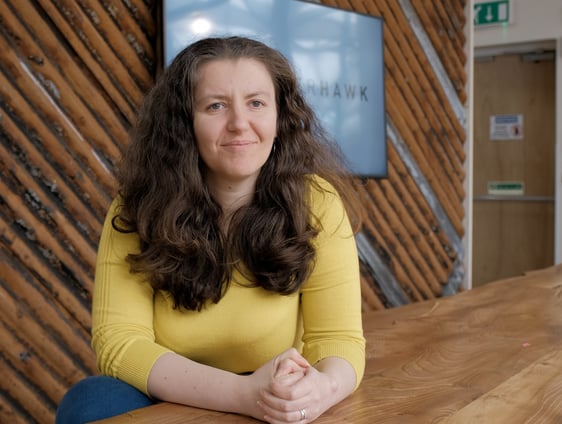 Alina Ilie - Product Owner, and key member of Cyberhawk's software team
You are meeting someone for the first time…how do you describe what you do at Cyberhawk?
I build a vision for our IT solutions, making sure we are always looking forward and expanding our IT development in line with Cyberhawk's overall business strategy. I'm the translator between customers, the management and our development teams, making sure we build the right product, at the right time.
What does a typical working day involve for you?
A lot of meetings! In all seriousness, communication is important to the product owner role. I'll spend a lot of time talking to customers and stakeholders across Cyberhawk and liaising with colleagues within our team. I was the first product owner to join, but within our team we now have two product owners, two business analysts and a UX designer. It's a real demonstration of Cyberhawk's commitment to being at the forefront of customer-driven solutions.
Another side of my role is updating the product backlog, writing stories for new developments and liaising with the development team to make sure that we clarify any issues with software that might occur.
Is your role focused on developing solutions for any one specific sector or industry?
I am involved across the board at a high level, but we are split into two areas – one team focused on construction and one focused on inspection functionality, which is my area of expertise. This is applicable to any industrial sector that relies on inspections, but we mainly focus on utilities – for example, electricity transmission and distribution – wind energy developments and oil and gas assets. These are the three pillars on which Cyberhawk is built.
Can you tell us how the software you're involved in developing is helping Cyberhawk to resolve customer challenges?
Cyberhawk has a global customer base and, particularly in the utilities sector, some companies are more evolved with their IT than others. Some are still working with minimal IT solutions – there continues to be a lot of paper and a lot of binders. That means information is not streamlined and it is hard for all stakeholders to access it. Simply, people are not connected with each other.
We are supporting organisations with their digital journey, helping them to become more proficient and efficient. Our solutions enable them to keep their inspection data in one place and unlock the insights that lead to better informed, business-critical decisions. For some organisations, this involves a cultural change. However, what we see is people embracing that change because they recognise the benefits. They can see they are able to access information more easily and quickly than they could before, and this helps them and the business.
I can see this from my perspective on the IT side of Cyberhawk, but it's evident on the drone inspection side too. Our customers see that it is more efficient than traditional methods like helicopter inspections. Electricity providers, for example, can service the network faster, preventing outages with a better overview of the overall situation of the network. When we layer our IT solutions on top, they can ensure their resources are targeted to areas most in need of attention and arrive at those resourcing decisions more quickly than they could in the past.
What difference do you and your team make for Cyberhawk's customers?
Our solutions have real-life impact. By making organisations more efficient, we ensure the people who are depending on them can go about their everyday lives without interruption. For example, there are areas of the United States where electricity grid failures can often happen on a near weekly basis. If we can help the provider improve that statistic, it is not only a major achievement for the customer, but also for the people who are depending on them – everyone from homeowners to hospitals.
Wildfires are also a huge problem in some areas of the United States, so if we can help providers manage their network and make them aware of potential risks of, for example overgrown vegetation around towers, we enable them to take action and remove risk.
Our solutions have a very powerful visualisation module which means our customers can derive much more value from less information. They may have less images, but with wide angles and a powerful zoom function, they can see more. This lends itself to better cost and time efficiencies.
Looking ahead, what developments in software and technology will be at the forefront of Cyberhawk's evolution?
Integration is a key feature of our solutions, including our visual data management software, iHawk. As a data agnostic platform, it can seamlessly integrate with multiple data sets from third party resources. By connecting with systems that our customers use, it enables them to join data together and interpret that information in a way that supports better decisions. We want to promote joined up, big picture thinking, so integration is a major focus for us.
Besides that, we are currently streamlining our industrial solutions into one bigger, much more powerful platform to ensure that we can reach more industries and provide more flexibility to our customers.
What do you enjoy most about your job…and what makes you proud about working at Cyberhawk?
It's the fact that I'm part of something that goes much deeper than just helping a client or a specific industry to solve a challenge. It's how we enable them to interpret their data in such a way that it has a transformative impact on the decision-making process. We give them the tools that can improve the world around us and make life better for the people who are depending on them.
If we think about utilities in particular, reliable power is something that's critical to all of us. We are completely reliant on it for the technology that has become essential in our day to day lives. I feel like, in my own small way, I'm helping to keep the power on for the people who need it most.
What advice would you give someone who is interested in joining the Cyberhawk team?
We have an amazing team at Cyberhawk and we want to add to it with people who are interested in making a difference and who are curious about learning new things. We are always looking at new opportunities to expand our technical landscape and our knowledge, and because we are continually evolving, we can provide new challenges. If that is something you enjoy, while working with a supportive team to help you make the right decisions, you will fit in well at Cyberhawk.
Tell us something about yourself that would surprise people!
We're based next to the Edinburgh International Climbing Arena – the world's biggest climbing arena – and, ironically, I'm scared of heights. Cyberhawk has some great staff benefits and one is having access to basic climbing training at the EIC. I've decided I'm going to face my fears and do it!
---