Drone technology within the oil and gas sector is not a new phenomenon: it's been used to conduct inspections and surveys on offshore assets for many years. However, as technology advances, we're continually finding new ways to use drones for the benefit of industry.
An emerging use is the application of Small Unmanned Aircraft Systems (sUAS) or drones to aid emergency response for incidents such as oil spills. In recent times, we've seen them become an essential part of the toolkit for emergency response and management plans.
Time and access to vital data are critical factors in reacting to oil spill incidents, but both can be limited in a tense and changeable situation. Drones – the eyes in the sky for ground crews – are helping to save crucial minutes and seconds by providing real-time visuals to enhance situational awareness.
Monitoring and response is a major challenge for oil and gas companies. An oil spill is a disaster with environmental and commercial impacts and also puts offshore workers in danger. To ensure the safety of the crew and to prevent severe and long-lasting damage, oil spills require immediate action and effective response.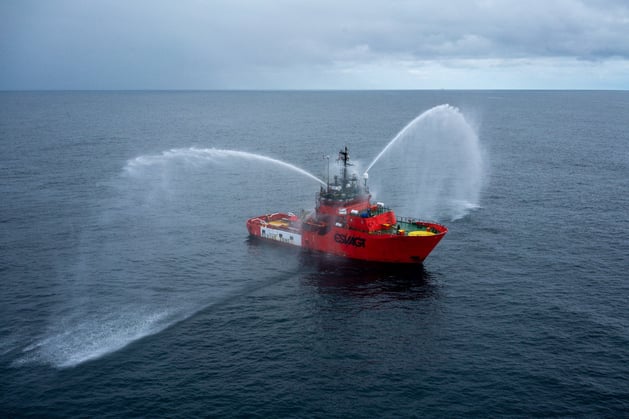 A safety vessel sprays an oil dispersant during an oil spill response drill
Drones deliver a different perspective to situational awareness, not limited by eye-level view. Drones enable the responders to locate and assess the extent of the spill, allowing them to fully understand the situation and ensure available response resources are used efficiently.
Drone can be used to quickly collect critical data to relay to responders, enabling early response and recovery. A live stream with real-time visuals including photos, live video footage, thermal images and GPS coordinates can be captured and provided to target a response.
This means responders are equipped with the information they need to make quicker and more informed decisions. It allows the team to understand what they are dealing with before putting anyone at risk, check environmental conditions such as wind direction, and identify re-entry routes should the team need to be moved. The data captured is also essential for post incident analysis.
Drone technology is continually progressing and the benefits it brings are becoming more recognised across industry; so much so that drones are now being designed specifically for emergency response. This will enable the adoption and roll-out of drones to aid emergency response teams in many sectors that Cyberhawk already operates in.
For example, in the utilities sector to support teams in maintaining a safe power grid, mitigating potential fire risk from transmission lines, and responding to wildfires in the US. Drones are also being deployed in the construction industry to not only offer unparalleled insight into capital project delivery, but to also support emergency response missions for construction collapse situations.