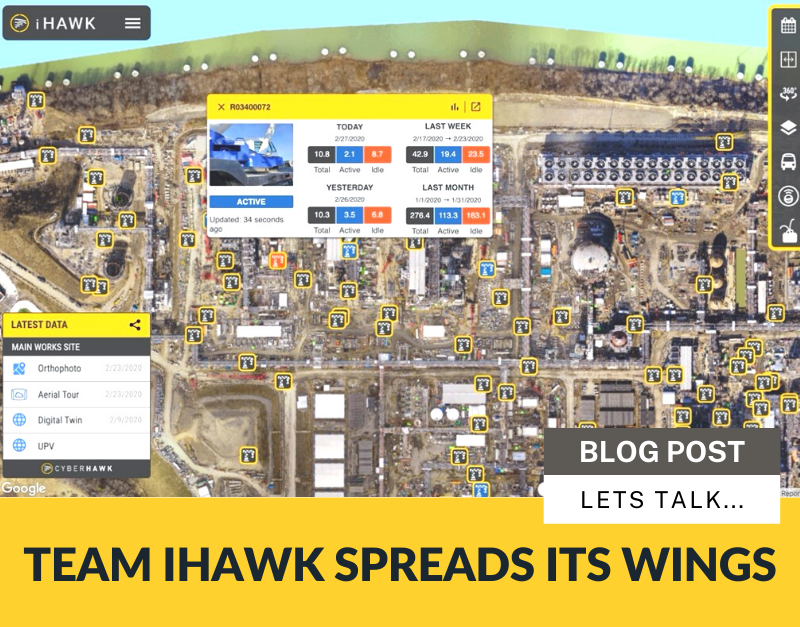 The last twelve months have heralded a period of growth for all of us at Cyberhawk. We've seen our market share increase, our international presence rise, and our teams grow in number.
But one team, more than any other, has grown significantly over the last year and that's the one behind arguably the jewel in the Cyberhawk crown: iHawk.


Since June last year, the iHawk team has more than doubled in size.
iHawk is our in-house developed visualization software tool that helps organizations democratize complex data and empower asset and project managers with unprecedented insight.
In today's post, we're going to look at its purpose, some of our recent highlights, and what's on the horizon for the iHawk team.
WHAT IS iHAWK?
Put simply, iHawk is a visual asset management tool for Energy and Construction. It incorporates the power of visual data sourced from drones, cameras and wearable technologies, IoT, and GIS to illustrate the state of existing assets and ongoing capital projects.
It gives clients the necessary information to make evidence-based decisions on their assets in a way that is safer, quicker, and cheaper than traditional means.
iHawk allows for incredible levels of detail when inspecting assets such as the insulator, split pins, shackles, u-bolts on this tower.

In other instances, iHawk can assist with remotely managing complex construction projects. This might mean allowing each project stakeholder the opportunity to visit the site remotely, to track progress, find documents or identify QHSE concerns.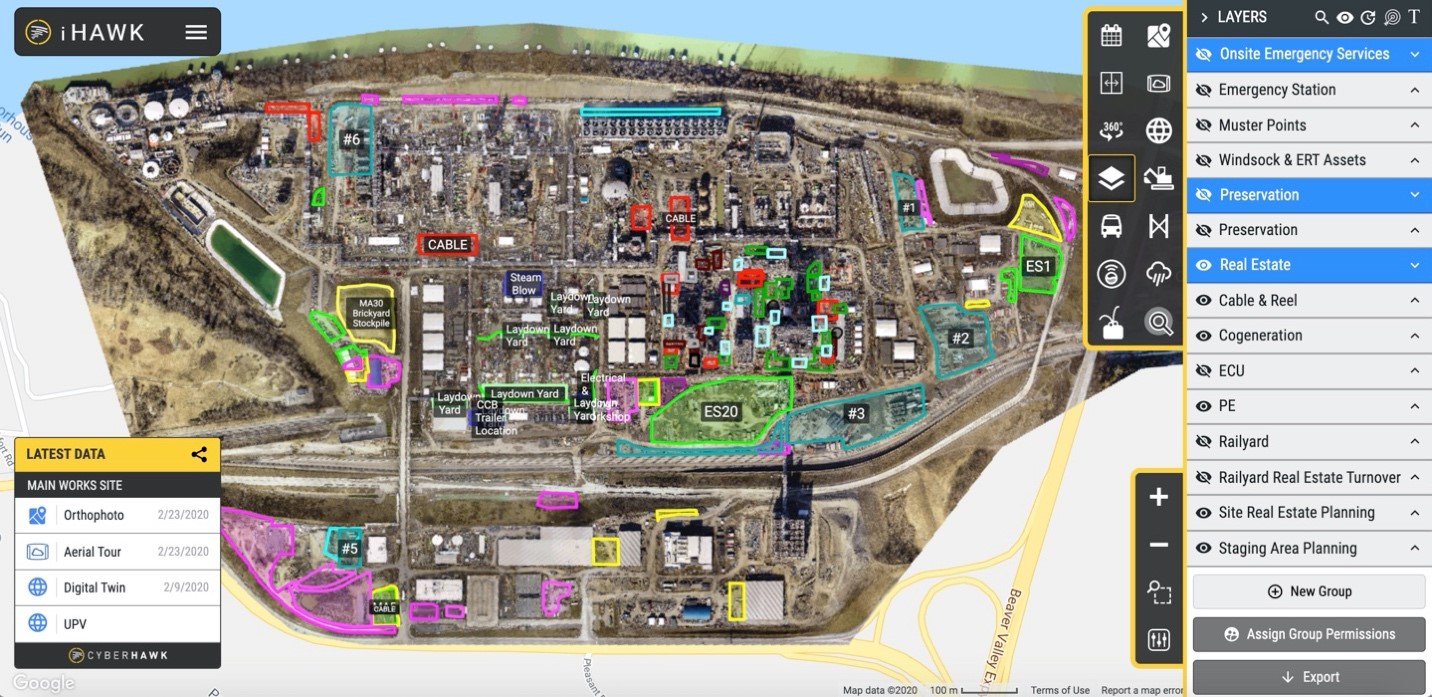 iHawk overview of US refinery.
RECENT HIGHLIGHTS
One of our most recent coups involves the development and maturation of our power grid inspection functionality.
This is a particularly important innovation as unidentified defects with power grid assets can have potentially catastrophic results for the power supplier, their customers and nature.
It has been proven that unmaintained power grid faults - such as high voltage assets not being suitably far away from surrounding shrubbery or component parts leaking oil - have played a major role in the continued rise of wildfires across the US in recent years.
That's why it's vital now, at a time where climate change is further exacerbating a life-threatening issue, that competent maintenance of power grid assets is delivered in the safest, most efficient way possible.

Did you know? In 2020 there were 58,950 wildfires compared with 50,477 in 2019 in the US.
UPCOMING WORK
As we and our clients continue to grow in size, we're committed to being adaptable and dependable - regardless of the size of the job in front of us. That means making sure our methods and our tools are fit for purpose.


That's why we used a recent piece of work with a utilities giant to form the basis of an application rewrite.
That piece of work asked us to inspect more than 100,000 overhead lines – a sharp increase from what we were used to previously. It challenged us to make real changes to our utilities application.
This meant we had to re-write code, re-arrange UI elements and try to speed up processes wherever we could.
But now, as a result, our tool is smoother, faster, future-proof, and ready to take on jobs that are even bigger.
THE FUTURE: AI
Over the last 13 years, we've learned the inspection process back-to-front, and specifically, where potential issues tend to arise and what's required to overcome those issues.
This experience allowed us to inform our AI strategically and in doing so create a smarter, more useable outcome that means our inspections become faster, more reliable, and more detailed.
For example, our most recent AI development is designed to help our QC team in their inspection tasks. Right now, our team has to manually go through thousands of inspection images to assess the quality of images with what they describe as "a lot of zooming in and squinting!"
Sometimes the relevant parts of photos are out-of-focus and that means further time wasted for our QC team and, in bad cases, that a re-inspection might have to take place.
Our aim is to build an AI that can automatically determine whether a photograph is clear enough so that our QC team can concentrate on other work and, ultimately, end the need for re-inspections.

GET THE FULL VIEW
If you are interested in learning more about our flagship tool, you can do so here.
jOIN OUR GROWING TEAM
We are recruiting! If Cyberhawk sounds like a company you'd love to be apart of, take a look at what roles we have on offer here.